And Baby Makes Three
Bringing Baby Home
Dr. Kathleen Lalande, C. Psych. is excited to offer this workshop to Ottawa Couples who are
expecting a new baby or who have recently welcomed one into their lives. The workshop will
give couples the skills needed to encourage healthy, supportive family relationships as they
prepare for the transition to parenthood.
Couples will learn how to:
Strengthen their relationship
Effectively manage stress and conflict
Recognize and respond to postpartum mood, anxiety, and adjustment issues and postpartum depression.
Meet the emotional and psychological needs of the child
Keep both parents involved in parenting
---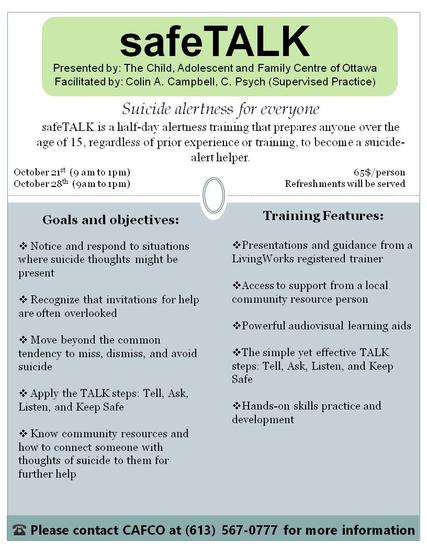 SAFETALK
safeTALK is a three-hour training program developed by a multi-disciplinary team through LivingWorks, originally based out of Calgary, Alberta. Developed as an extension of the Applied Suicide Intervention Skills Training, safeTALK prepares helpers to identify persons with thoughts of suicide and connect them to suicide first aid resources. Most people with thoughts of suicide, either directly or indirectly, invite help to stay safe. Alert helpers know how to identify and work with these opportunities to help protect life. Throughout the training, videos illustrate both non-alert and alert responses. Discussion and practice stimulates learning.
The safeTALK program has been used across Canada as well as in the United States and Australia. Research into the effectiveness of safeTALK has shown its effectiveness within a variety of populations and community settings.
Braswell, W. J. (2011). Does safeTALK equip airmen to intervene when a fellow military member is having suicidal thoughts? [Thesis – Columbia International University, Columbia, SC].
Eynan, R. (2011). Preventing suicides in the Toronto Subway System: A program evaluation. [Thesis – University of Toronto, Toronto, Ontario].
Forward for Life & Common Unity. (2014). Suicide prevention training in Hertfordshire: An overview of delivery of the combined approach for suicide prevention implemented on behalf of Hertfordshire County Council Public Health Service 2014.
Gullestrup, J., Lequertier, B., & Martin, G. (2011). MATES in construction: Impact of a multimodal, community-based program for suicide prevention in the construction industry. International Journal of Environmental Research and Public Health, 8, 4180-4196.
McLean, J., Schinkel, M., et al. (2007). Evaluation of the Scottish safeTALK pilot. Edinburgh, Scotland: Scottish Development Centre for Mental Health.
Mellanby, R., Hundson, N. P. H., et al. (2010). Evaluation of suicide awareness programmes delivered to veterinary undergraduates and academic staff. Veterinary Record, 167, 730-734.
---
  Friends for Life
FRIENDS for Life is an evidence based social skills and resilience building program developed by Dr. Paula Barrett in Australia. It has been recognized and endorsed by the World Heath Organization as an effective means to prevent anxiety for children aged 8-11. FRIENDS for Life has been shown in scientific studies to reduce anxiety, both in the short term and over time, and to provide participants with tools to cope in stressful and challenging situations across a number of settings and cultures:
https://link.springer.com/article/10.1007/s12310-010-9042-5
http://www.tandfonline.com/doi/abs/10.1207/s15374424jccp3503_5
https://bmcpublichealth.biomedcentral.com/articles/10.1186/1471-2458-12-86
http://onlinelibrary.wiley.com/doi/10.1111/camh.12030/full
In addition to anxiety treatment, FRIENDS for Life also helps to improve participants' social and emotional skills, ability to focus, confidence, and the capacity to relax and regulate emotions.